People Online Are Loving This Black Labrador Demanding Belly Rubs From Players In The Middle Of An International Soccer Match
One excited pup interrupted an international match between Chile and Venezuela's women's teams at the Estadio La Granja stadium for a belly rub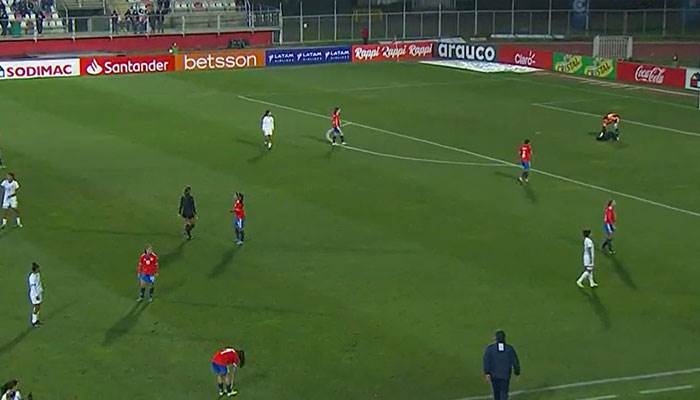 One dog expressed his unconditional love for belly rubs during an international match between Chile and Venezuela's women's teams at Estadio La Granja stadium in Curicó last Saturday, June 25th.
In a hilariously cute and hectic moment, a big black Labrador found its way into the stadium and trotted onto the soccer pitch during the game's 36th minute, going straight for Chile's goalkeeper Christine Endler.
During the 36th minute of the game, the black Labrador went straight for Chile's goalkeeper Christine Endler and flopped in front of her for pets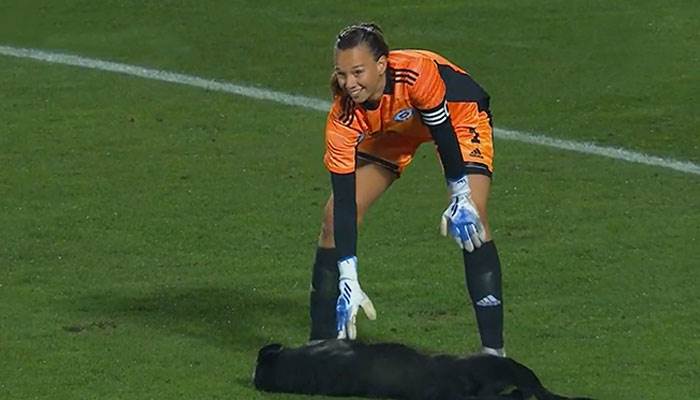 It flopped right in front of her and demanded attention. She could do little but obey and proceeded to pet the pupper while its legs dangled in content. Once he was satisfied, he got up and ran to the referee, plopping down and rolling over once more, excited to receive all the love.
A small group of players attempted to lure the pup away from the field, however, he had them bamboozled when he ran in the other direction. The crowd kept cheering on the pup as it dashed around the soccer field at incredible speeds, clearly rejoicing in the spotlight and all its new friends. He then sprinted to the technical area where he received more pets and snuggles.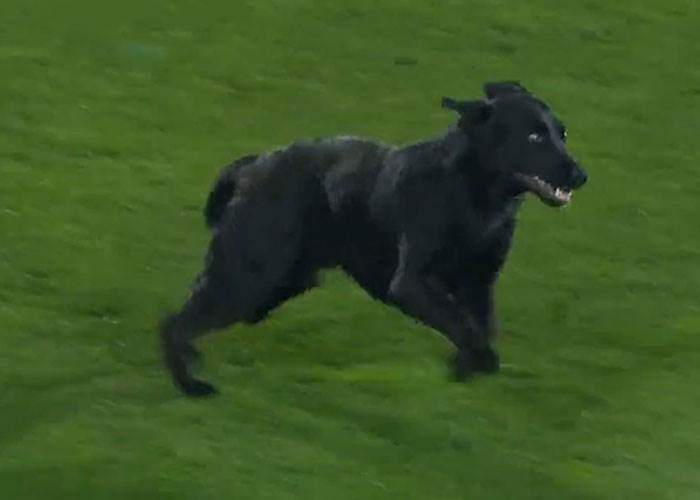 A small group of players attempted to lure the pup away from the field or capture it, however, it was too quick and cunning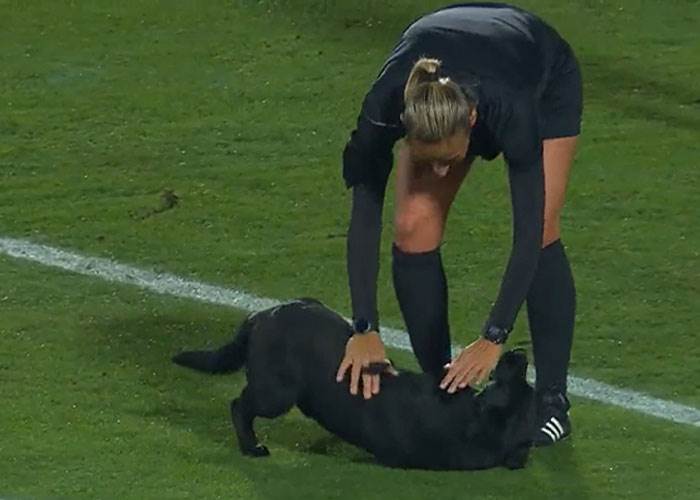 Players attempted to capture the animal numerous times, but the pup kept slipping away. That is until two Chilean players came together and were able to carry the dog off the pitch. Though, it seemed the Labrador didn't mind much, as he was wagging his tail throughout.
The match finished 1-0 in favor of Venezuela, with Mariana Speckmaier scoring in the 82nd minute. But we're sure the Labrador made them all feel like victors. According to , both Chile and Venezuela are preparing for the Copa América Femenina, which gets underway in Colombia on July 8th.
The adorable video has since gone viral on social media, with one video reaching over 8.3M views on Twitter alone. One person commented, saying, "I vote this type of streaker should be allowed at least once a game – it's a belly rub timeout!" Another said, "The only time an interruption in a football game is good!"
We've finally reached the part of the article where we discuss the power of the belly rub. Why is it that dogs love it so? As explained by , dogs love belly rubs simply because they feel good. It sets off a specific reaction in their brain that responds to the stimulation of hair follicles, linking it to social grooming.
The crowd didn't seem to mind as they cheered the dog on while it dashed around the soccer field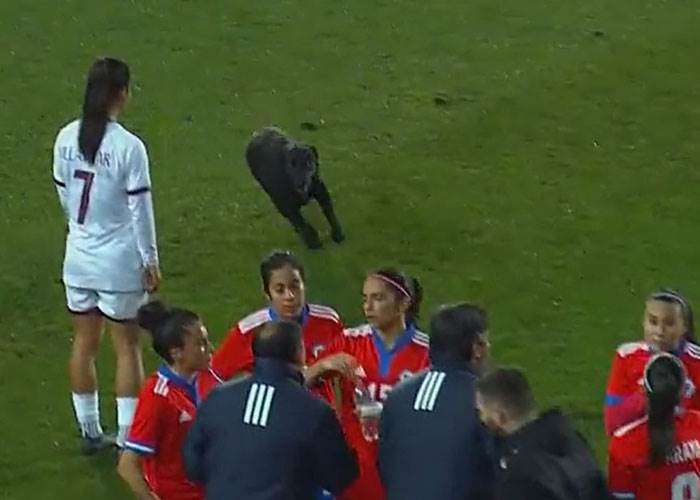 The leg-kicking associated with tummy rubs is often considered a sign of enjoyment, but in reality, this is an involuntary reaction, much like kicking your own leg when a doctor tests your reflexes with a mallet to the knee.
It's an automatic response that helps keep your dog away from danger – the spinal cord tells the leg to kick before the conscious brain makes the decision. It's a matter of self-preservation.
Two Chilean players came together and were able to carry the dog off the pitch. The game then resumed, finishing 1-0 in favor of Venezuela
Flopping down for a belly rub also shows the pup's confidence that a person won't take advantage of its vulnerability. Having said that, not all dogs like getting belly rubs. If a dog isn't rolling over and offering up his belly on his own, chances are he's just not into it and that's completely normal and fine.
This isn't the first, nor, hopefully, the last time that a pup has snuck into a stadium. There have been numerous occasions where dogs have run after the soccer ball or just wanted to say 'hi!' to their favorite players. The excitement, the commotion, the ball – it all adds together to form a pupper's paradise.
The pup didn't seem to mind too much, as its tail kept wagging excitedly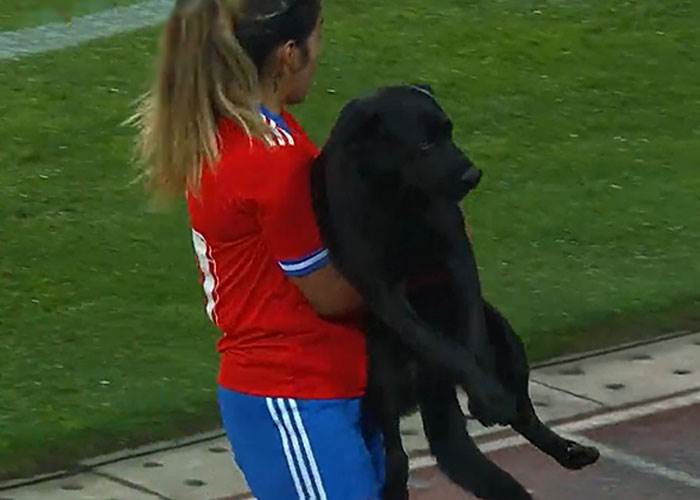 According to , dogs have a tendency to want to chase things, as they were trained to do this for the purpose of hunting in the past. Rather than chasing a rabbit, pups chase a ball, which replicates the experience. When they chase the ball and retrieve it, this is a deed accomplished and their body knows it.
, the author of A Guide To Living With And Training A Fearful Dog, believes that "All of these behaviors are self-reinforcing, meaning they make the dog feel good. They don't need to be rewarded for their behavior. If you like playing football, you play football even if you don't get paid to do it. It just feels good to do it. Same is true for dogs."
It is unknown whether the dog has owners at the point of writing, but we wish the pup all the best and lots more belly rubs in his lifetime!
At the time of writing, it is still unclear as to whether the dog is a stray or just got too excited and decided to pull a disappearing act on his owner. Regardless, we hope this dog gets an endless supply of cuddles and belly rubs throughout his life, and perhaps we'll see him again in another soccer game.